You've undoubtedly seen a bubble craps machine if you have spent time in casinos. The oversized, bouncing dice create quite the spectacle. 
The game is also known informally, as "craps bubble" machines.
Let's learn more about it from my experience with the Shoot to Win Craps machine in Vegas.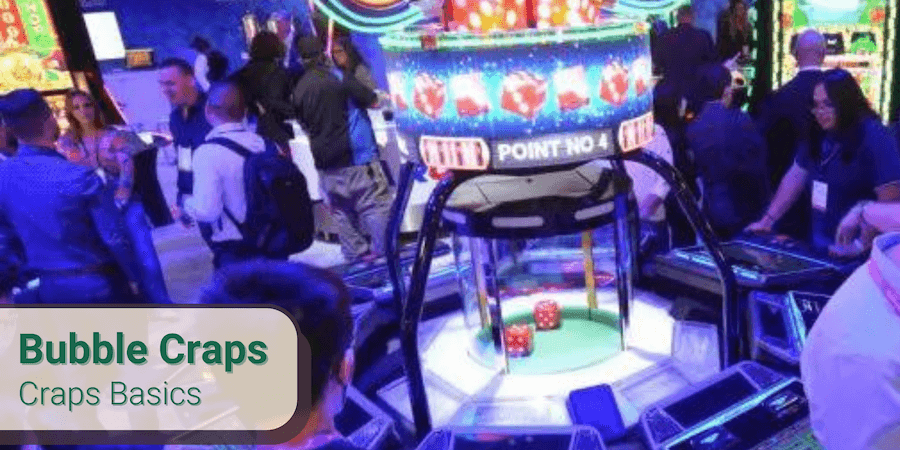 What is Bubble Craps?
Bubble craps is a slang term for the latest electronic version of craps found in some casinos. 
The game is not yet popular in all casinos, but it is being tested by more and more. 
The primary manufacturers of bubble craps machines are Aruze Gaming and Interblock. Aruze Gaming calls their game "Shoot to Win Craps," and Interblock calls theirs "Organic Craps." 
The game gets its slang name from the glass or plastic dome or compartment (i.e., the "bubble") in the unit's center that houses a big pair of dice. 
Please refer to the pictures below for an idea of what the units look like:
Why I Love Bubble Craps
As you already know, I love the traditional craps table layout, with the chips, cussing, and dice you can fondle, so I spent months just walking right by the bubble craps game. 
Until recently, when we sat down and played, we loved it right from the start.
Accessibility for All
Craps can be intimidating. While craps tables are often the most boisterous parts of a casino, the jargon and fast pace of the game can be a little off-putting. 
The table layout and bets can take some time to learn, so many just watch and move on to a game they're more comfortable with.
Bubble craps makes the game accessible to everyone and even provides many benefits more experienced players will appreciate.
 The table minimum at bubble craps is typically $5, possibly less. At a real craps table, minimums can be much more, especially on the Las Vegas Strip.
Learning the Game
There's still a learning curve with bubble craps, but the game provides convenient information about both the basics of craps and how betting works on the bubble craps game. 
You can read up on the game before you ever bet a penny. Once you're ready to dive in, you'll see a layout with all the features of a real craps table.
My Personal Experience with Bubble Craps
One weekend, I went to Las Vegas and tried the game. 
Many players have told me many great things about it and were intrigued by the big dice and flashy lights. 
I was initially intimidated, but the machine's convenient information and low table minimum made learning the game's mechanics easy.
I started with small bets and gradually increased as I became more comfortable with the game. It was a lot of fun, and I won a decent amount of money. 
I have to admit – I was hooked.
I ended up playing the machine multiple times throughout the weekend.
Pros and Cons of Bubble Craps
Based on my experience, here are the advantages and disadvantages of playing bubble craps:
Advantages
Your bets are always paid off flawlessly, with no dealer error ever. You can play your own game, so nobody's giving you nasty looks if you bet against the shooter or the table (called "don't" betting).
You can call off, or cancel, all your bets at any time without screwing with the mojo of the table. (Some bets, like a Pass Line bet, can't be canceled, but most can be taken down in an instant if you "get a call from upstairs.")
Other benefits of an electronic game include a roll history, much like that on displays at roulette tables. Some gamblers love that function, although dice have no memory, and past rolls do not affect future rolls. 
The machine also keeps track of how many rolls a shooter has had in a row. It's a huge benefit to play at your own pace. 
You have the option to sit out whenever you want. With bubble craps, you can pull down all your bets and sit there, sipping on your free martini, until you feel like betting again.
Disadvantages
There are no chips, and you don't get the same social interaction as you would at a traditional craps table. 
Also, the machine doesn't have the same level of excitement as a live craps game.
Bubble Craps Strategy
As "bubble craps" is a relatively new game, little information is available on specific strategies to maximize your chances of winning. However, some general craps strategies also apply to bubble craps:
Sticking to the pass line bet, as it has the lowest house edge.
Making maximum odds bets, as they have no house edge.
Avoiding proposition bets, as they have a high house edge.
Using a betting system like the Martingale system to manage your bankroll.
It is important to remember that no matter what craps bubble strategy you use, you are playing a game of chance, and there is no guaranteed way to win. 
It is always best to gamble responsibly and within your means and ensure you develop a proper bankroll management strategy.
What is Lucky Shooter in Craps?
Lucky Shooter is a side bet offered on electronic Organic Craps games by Interblock. The bet revolves around how many unique totals a player can roll after the initial roll, but excluding the total of that initial roll. Here's how it works:
If the shooter rolls a 2, 3, or 12 on the come-out roll, the Lucky Shooter bet loses.
If a 7 or 11 is rolled on the come-out roll, the Lucky Shooter bet pushes.
If the player rolls a 4, 5, 6, 8, 9, or 10 (referred to as the Point), the Lucky Shooter bet remains until the shooter rolls a 2, 3, 7, 11, 12, or any total that has already been rolled, including the Point.
For every new total rolled among 4, 5, 6, 8, 9, and 10, after the first roll, the player is awarded a "Hit." Rolling the Point a second time does not award a Hit.
The bet pays based on the number of Hits achieved.
The payout varies depending on the casino's specific pay table for the Lucky Shooter bet.
Conclusion
Despite the downsides, bubble craps is worth a try. It's a great way to learn the basics of craps and have a lot of fun in the process. And who knows, you might even hit it big with those bouncing dice.
Plus, it is a unique and exciting way to play craps. 
It is a great option for beginners and experienced players, providing a low table minimum and easy-to-learn gameplay. 
The roll history, the ability to play at your own pace, and the lack of dealer error make it a great choice for anyone who loves the game of craps. 
Don't be afraid to give bubble craps a try; you might just be surprised at how much you enjoy it.
Happy rolling!
Bubble Craps Frequently Asked Questions